Power BI Business-Dashboards – Seeing, Understanding, Acting
---
Our Power BI business dashboards provide essential business metrics for intuitive analysis. See at a glance where action is needed. Dive into the details to identify root causes and derive actions. Our business dashboards can be used with any ERP or on any accounting system. Individual changes or extensions to content or design are possible at any time.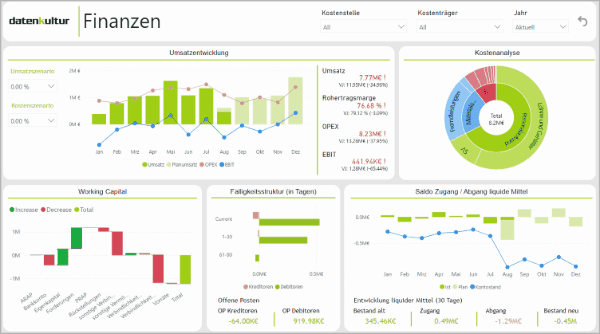 Click on the video to enlarge
MORE INFORMATION
keyboard_arrow_leftPrevious
Nextkeyboard_arrow_right
Optimal control of finances
With our interactive Power BI financial dashboard, you can make your business development predictable. Compare key performance indicators such as revenue, gross profit margin or OPEX (operating costs) with the respective previous year's values or budgeted values to identify any need for action at an early stage. Simulate possible best-case or worst-case scenarios to assess the impact on earnings or liquidity. Determine possible courses of action by intuitively diving through your cost structure from generic terms such as "Other operating expenses" to account groups such as "Occupancy costs" and down to the individual posting.
FURTHER FEATURES IN THE OVERVIEW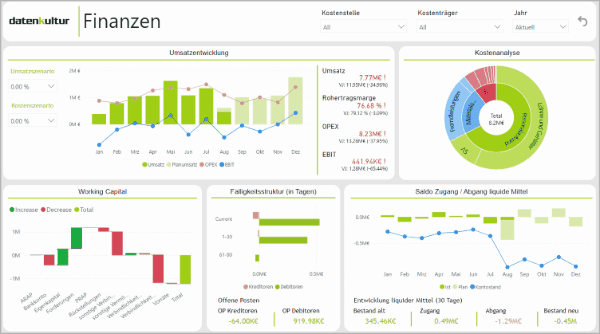 Mit unserem interaktiven Power BI Finanz-Dashboard machen Sie Ihre Geschäftsentwicklung vorhersagbar. Vergleichen Sie wichtige Kennzahlen wie Umsatz, Rohertragsmarge oder OPEX (Operative Kosten) mit den jeweiligen Vorjahreswerten bzw. Planwerten, um Handlungsbedarf frühzeitig zu erkennen. Simulieren Sie mögliche Best-Case- oder Worst-Case-Szenarien, um die Auswirkungen auf das Ergebnis oder auf die Liquidität einzuschätzen. Ermitteln Sie mögliche Handlungsoptionen, in dem Sie intuitiv durch Ihre Kostenstruktur von Oberbegriffen wie "Sonstiger betrieblicher Aufwand" über Kontengruppen wie "Raumkosten" bis hinunter auf die einzelne Buchung eintauchen.
WEITERE FEATURES IN DER ÜBERSICHT
JETZT TESTEN
keyboard_arrow_leftPrevious
Nextkeyboard_arrow_right
Perfectly deploy salespersons
With our interactive Power BI sales dashboard, you can see at any time where you stand in sales and whether you can achieve the goals you have set. You gain insight into which items are profitable or uneconomical and can trigger targeted actions. You will learn which customers have changed your buying behavior or with which customers short-term sales can be achieved. Recognize which salespeople can still optimize their performance or where a reallocation of areas of responsibility is possible. Analyze when and why orders or campaigns were successful in order to continuously improve your sales process.
FURTHER FEATURES IN THE OVERVIEW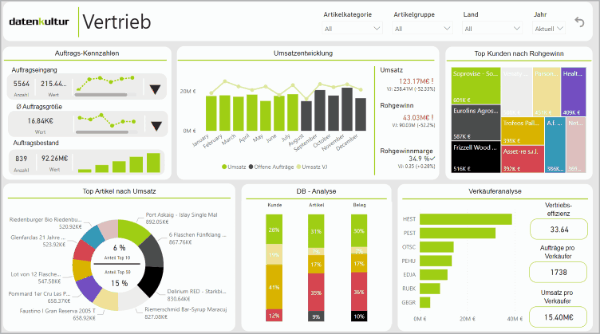 Click on the video to enlarge
MORE INFORMATION
keyboard_arrow_leftPrevious
Nextkeyboard_arrow_right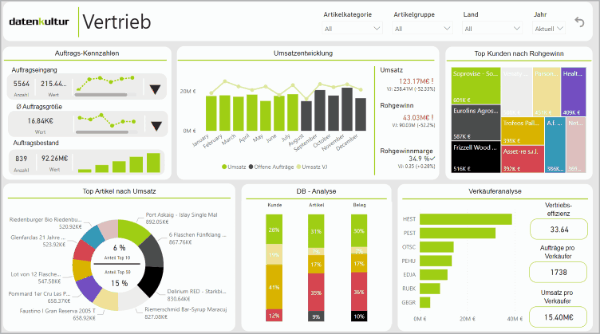 Verkäufer perfekt einsetzen
Mit unserem interaktivem Power BI Vertriebs-Dashboard erkennen Sie jederzeit, wo Sie im Vertrieb stehen und ob Sie Ihre gesteckten Ziele erreichen können. Sie gewinnen Einsicht, welche Artikel wirtschaftlich oder unwirtschaftlich sind und können gezielte Aktionen auslösen. Sie erfahren, welche Kunden Ihr Kaufverhalten verändert haben oder bei welchen Kunden kurzfristiger Umsatz erzielt werden kann. Erkennen Sie, welche Verkäufer Ihre Performance noch optimieren können bzw. wo eine Neuaufteilung der Zuständigkeitsgebiete in Frage kommt. Analysieren Sie, wann und warum Aufträge oder Aktionen erfolgreich waren, um Ihren Vertriebsprozess kontinuierlich zu verbessern.
WEITERE FEATURES IN DER ÜBERSICHT
JETZT TESTEN
keyboard_arrow_leftPrevious
Nextkeyboard_arrow_right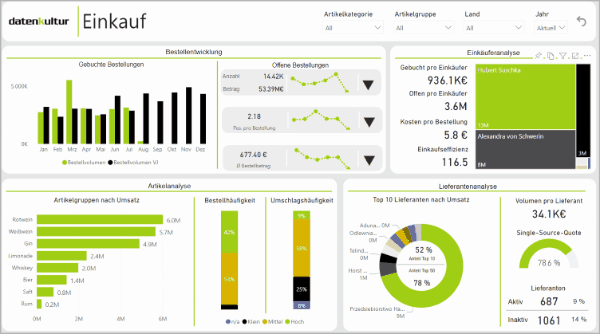 Click on the video to enlarge
MORE INFORMATION
keyboard_arrow_leftPrevious
Nextkeyboard_arrow_right
Actively reduce purchasing costs
Our interactive Power BI purchasing dashboard shows you how your purchasing behavior has developed in the current year. The comparison with the previous year also allows you to forecast the rest of the year. You can see at a glance which items you need to give high priority. The supplier overview documents the performance of your business partner and provides the basis for effective risk management. From the development of your ordering behavior, you can see your potential for optimizing your ordering process. The inventory turnover rate explains which items are no longer needed and can be suggested to Sales for action.
FURTHER FEATURES IN THE OVERVIEW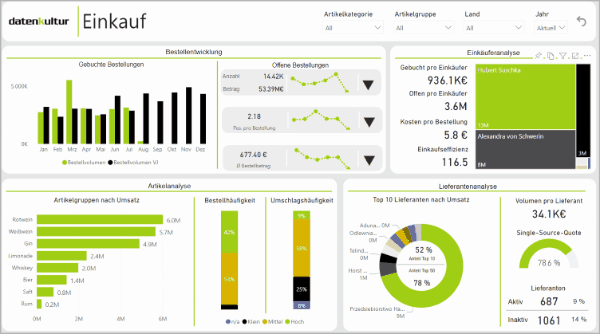 Einkaufskosten aktiv reduzieren
Unser interaktives Power BI Einkaufs-Dashboard zeigt Ihnen, wie sich Ihr Einkaufsverhalten im aktuellen Jahr entwickelt hat. Über den Vorjahresvergleich lässt sich zudem der weitere Jahresverlauf prognostizieren. Sie erkennen auf den ersten Blick, welche Artikel Sie mit hoher Priorität behandeln müssen. Der Lieferantenüberblick dokumentiert die Leistungen Ihres Geschäftspartners und liefert die Grundlage für ein effektives Risikomanagement. An der Entwicklung Ihres Bestellverhaltens erkennen Sie Ihr Potenzial zur Optimierung Ihres Bestellprozesses. Die Lagerumschlagshäufigkeit erklärt, welche Artikel nicht mehr benötigt werden und dem Vertrieb für Aktionen vorgeschlagen werden können.
WEITERE FEATURES IN DER ÜBERSICHT
JETZT TESTEN
keyboard_arrow_leftPrevious
Nextkeyboard_arrow_right
Deploy dashboards quickly
Our Power BI business dashboards can be used by any company. The dashboards work regardless of whether you use complex ERP systems (e.g. SAP, Dynamics BC, Sage), operational applications and separate financial accounting (e.g. DATEV, Diamant, Hamburger Software) or just Excel to manage your business. We achieve this enormous flexibility because we do not link our dashboards directly to the data source, but generally map them to a standardized data warehouse. For Microsoft Dynamics products, we offer ready-made standard solutions with Jet Analytics. Individual connections succeed in record time with TimeXtender.
FURTHER FEATURES IN THE OVERVIEW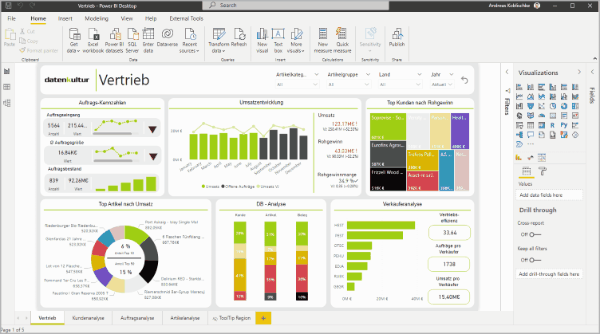 Dashboards zügig einsetzen
Unsere Power BI Business-Dashboards können von jedem Unternehmen verwendet werden. Die Dashboards funktionieren unabhängig davon, ob Sie komplexe ERP-Systeme (z. B. SAP, Dynamics BC, Sage), operative Anwendungen und eine separate Finanzbuchhaltung (z. B. DATEV, Diamant, Hamburger Software) oder nur Excel zur Steuerung Ihres Unternehmens verwenden. Wir erreichen diese enorme Flexibilität, weil wir unsere Dashboards nicht direkt an die Datenquelle anbinden, sondern generell auf einem standardisierten Data Warehouse abbilden. Für Microsoft-Dynamics-Produkte bieten wir mit Jet Analytics fertige Standardlösungen. Individuelle Anbindungen gelingen mit TimeXtender in Rekordzeit.
WEITERE FEATURES IN DER ÜBERSICHT
Realize individual adaptations
All Power BI business dashboards can be modified and extended at any time. Customizing dashboards with Microsoft Power BI is intuitive, impressively flexible and easy to learn even for the inexperienced user. You can master the provision of new source data for Power BI with our data warehouse automation tools Jet Analytics or TimeXtender. If you enjoy working with data, you will learn how to extend the data warehouse within a few days. Those who already have experience with databases and SQL will immediately feel at home. We will coach you individually if you want to perform customizations yourself, or are happy to assist you as a staff member.
FURTHER FEATURES IN THE OVERVIEW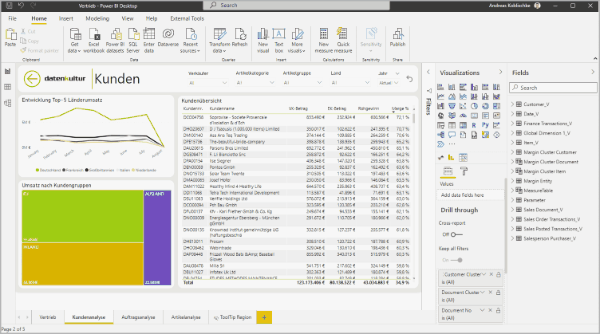 Individuelle Anpassungen realisieren
Alle Power BI Business-Dashboards können jederzeit verändert und erweitert werden. Die Anpassung der Dashboards mit Microsoft Power BI ist intuitiv, beeindruckend flexibel und auch für den unerfahrenen Anwender leicht zu erlernen. Das Bereitstellen neuer Quelldaten für Power BI beherrschen Sie mit unseren Data-Warehouse-Automation-Werkzeugen Jet Analytics oder TimeXtender. Wer Freude an der Arbeit mit Daten hat, lernt die Erweiterung des Data Warehouse binnen weniger Tage. Wer bereits Erfahrungen mit Datenbanken und SQL hat, wird sich sofort zu Hause fühlen. Wir coachen Sie individuell, wenn Sie Anpassungen selbst durchführen möchten, oder stehen Ihnen gern als Mitarbeiter zur Seite.
WEITERE FEATURES IN DER ÜBERSICHT
Successfully implement Microsoft Power BI with datenkultur
The employees of datenkultur GmbH have many years of experience in the realization of business intelligence projects with Power BI.
Together with the specialist departments of our customers, our highly qualified business experts design dashboards and reports that often go far beyond what our customers could have previously imagined. From the original desire for relatively simple automation via digitization, modern control tools emerge.
Our technical BI specialists implement the platform, our business IT specialists realize the outlined solutions and our project managers lead the projects to economic success. We share our knowledge with our customers in coaching workshops so that they can successfully use the outstanding tool Power BI on their own.
Power BI business dashboards - find out now right here!
Would you like to learn more about our business dashboards? We would be happy to present the functions and benefits to you without obligation. Arrange an appointment here:
MORE INFORMATION
keyboard_arrow_leftPrevious
Nextkeyboard_arrow_right
Power BI Business-Dashboards – jetzt direkt hier informieren!
Sie möchten mehr über unsere Business-Dashboards erfahren? Gerne stellen wir Ihnen die Funktionen und Vorteile in einer unverbindlichen, kostenlosen Online-Präsentation vor. Vereinbaren Sie hier einen Termin:
JETZT PRÄSENTATION VEREINBAREN!
keyboard_arrow_leftPrevious
Nextkeyboard_arrow_right