At the European Power Platform Conference in Berlin, our CEO Andreas Koblischke explained how to achieve fast and reliable reports with Power BI on complex data sources like ERP systems. Showing several Power BI demos, he shared his experiences from many different Power BI projects he has done in the past years in front of more than 70 audience members. The presentation was divided into four, sequential sections. Here is a brief overview: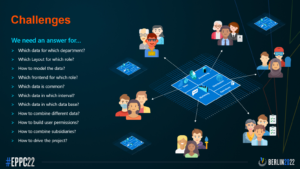 What´s the particular challenge with complex data?
Gathering requirements is not an easy task when there are many departments and employees with different roles in it. The scenario becomes even more complex when there are multiple sites which are to be evaluated simultaneously.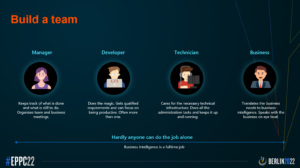 How do you successfully run a Power BI project?
Mastering high complexity requires experience in project management, BI development, technical set-up and knowledge of the processes and requirements of the individual departments. As very few people have all these skills, collaboration is the key to success.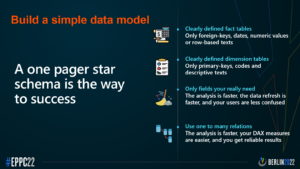 How do you present complex data?
Creating Power BI dashboards starts with a written draft of the design. However, the development starts with the data. Good data modelling, professional creation of DAX-Measures or consistently observed naming conventions are also components for successful Power BI projects.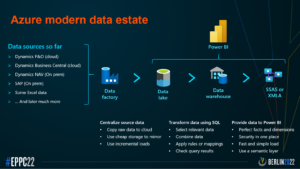 How do you make complex data available for evaluation?
Even very large data volumes can be scalably provided for Power BI by using a Modern Data Estate. Microsoft provides all the necessary components for business intelligence and AI in Azure. There are also low-code tools on the market, such as Jet Analytics or TimeXtender, which generate the professional Azure source code.

We would be happy to provide you with detailed information on how to use Power BI on complex data sources. Please do not hesitate to contact us.